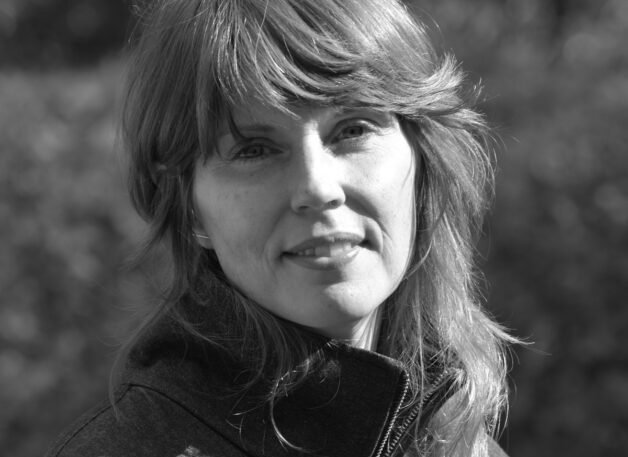 Biography
Heather Gwen Martin (b.1977, Saskatoon, Canada) is a painter based in Los Angeles who is interested in the human aspect of painting. The colors are hot and bright, nearing hard edge abstraction while maintaining the mark of the hand.  Each shape is poetic, with flourishes of elegant movement akin to dancing.
Martin mixes her paint colors by hand, and the unique tones play off each other in astonishing ways. Certain shades of color can only be seen in person, and encourage the viewer to move around the work, changing their physical relationship to the surface of the painting.
Heather Gwen Martin studied at the University of California, San Diego and The School of the Art Institute of Chicago. Her work has been included in museum exhibitions at the Museum of Contemporary Art San Diego, San Diego, CA; University Art Gallery, University of California, San Diego, San Diego, CA; Oceanside Museum of Art, Oceanside, CA; Torrance Art Museum, Torrance, CA; El Segundo Museum of Art, El Segundo, CA; The Pizzuti Collection, Columbus, OH; Frist Art Museum, Nashville, TN; Chrysler Museum of Art, Norfolk, VA; and the Claremont Museum of Art, Claremont, CA.
Haystack Perspective
Heather Gwen Martin's large, bold, colorful abstract paintings suggest sweeping landscapes in a pop aesthetic. Hers is a bright and beautiful world full of organically curving shapes and lines. Bulbous forms swell; lines move like tendrils or hairline cracks across expanses of color. Scale is an essential component to her paintings where compositions are consistently asymmetrical and askew. Interested in neuroscience, Martin is fascinated by our interactions with the world, how we respond to stimuli, both cognitively and physically. Her paintings (and now her prints) are fascinating examples of two-dimensional works that evoke a sense of depth and vibrate at the points where intense colors meet. The artist's explanations are brief to give the viewer full license to interpret the abstraction with their mind unencumbered.
Recent Exhibitions
Miles McEnery Gallery
Verse
New York City, NY
2022
University of South Florida Contemporary Art Museum
The Lyrical Moment: Modern and Contemporary Abstraction by Helen Frankenthaler and Heather Gwen Martin
Tampa, FL
2022
L.A. Louver
Nerve Lines and Fever Dreams
Los Angeles, CA
2021