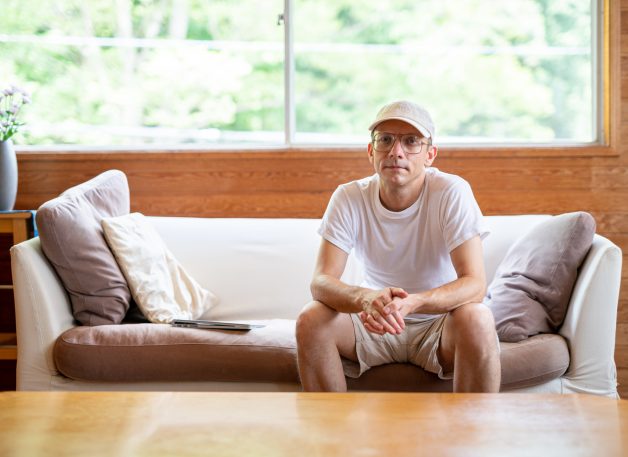 Brooklyn and Tokyo
Painting and Printmaking
Biography
Alex Dodge (b.1977, Denver, CO) is an internationally recognized artist. Although his works primarily take the final form of painting, his education and ever-growing knowledge of printmaking, coding software, and 3D design have led him to create some of the most innovative and cutting-edge techniques in art-making today. Dodge's pushing of material boundaries to create compelling imagery is rooted just as much in technological advances as it is in traditional methods, particularly printmaking. 
Dodge received his Bachelor of Fine Arts in 2001 from Rhode Island School of Design. He later attended New York University and received his MPS in Interactive Telecommunication in 2012. His work is included in the prominent permanent collections of The Metropolitan Museum of Art, MoMA, Whitney Museum of American Art, and the New York Public Library.
Haystack Perspective
Alex Dodge is pushing painting into the future. His signature raised patterns of oil paint are digitally sketched using 3D design software before landing on traditional canvas using laser-cut stencils and airbrushed backgrounds. In the artist's words, "The intermediate stage in my work involves working between a range of different modeling and simulation software. Character modeling, rigging, and animation is done mostly in Maya, 3D Studio, or Blender, but the majority of my work recently happens in CLO 3D or Marvelous Designer for garment design and simulation. A lot of the tools I use are often employed in game development. Recent developments in GPU acceleration have made it a lot easier to do the physics simulations necessary for these paintings."
Dodge's canvases depict textiles that shroud and define nondescript forms in a realistic yet painterly manner. The patterned textiles delineate the bulky objects they cover by way of their undulating contours and foreshortened patterns. The paint handling is hard-edged but as sumptuously thick as fondant icing. Dodge achieves this effect by pushing oil paint through laser-cut stencils, a trick that nods to the centuries-old Japanese textile-printing practice of katazome. In his more recent work, Dodge utilizes the Japanese printmaking technique called bokashi, creating soft gradients.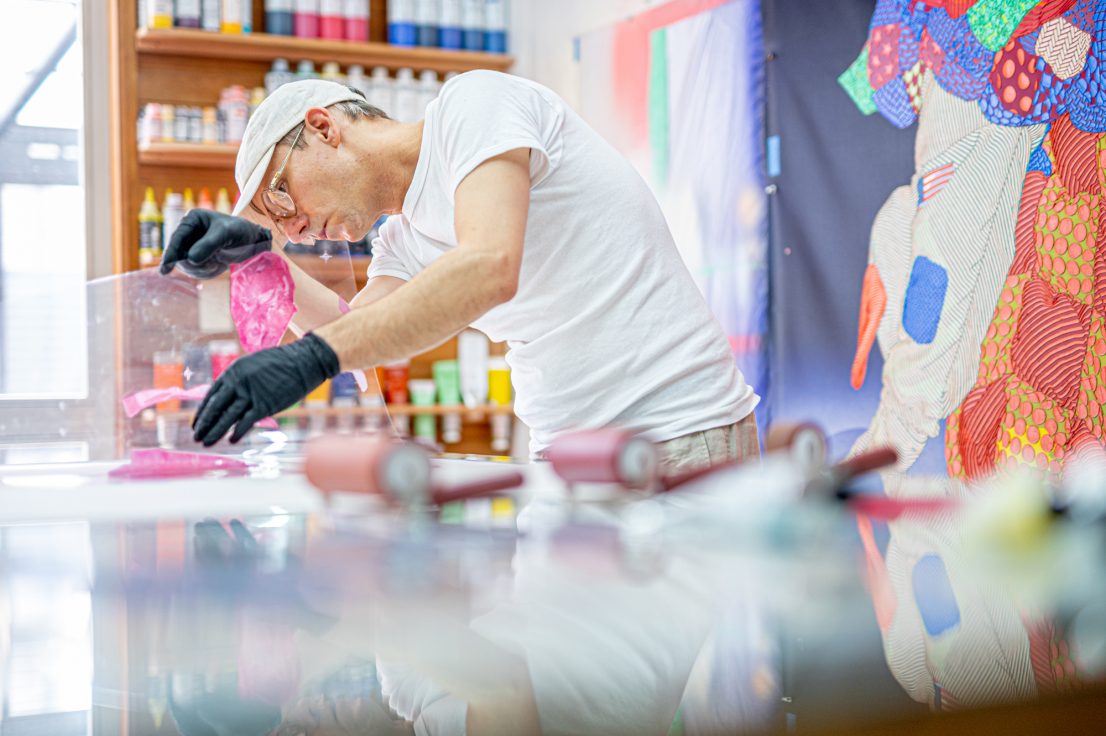 From the Artist
"I often think about an artist's process as being a negotiation between the internal needs and limitations of the artist and the properties of their environment. The synthesis of technological systems and more traditional physical material processes is partly an integration of those parts of myself; a kind of integration between the left and right hemispheres maybe. It's also a means of negotiating a very complex and dynamic cultural space that we live in."
Recent Exhibitions
Fleming Museum of Art at the University of Vermont
Josef Albers - Formulation: Articulation
Burlington, Vermont
2023
BB&M
Alex Dodge: Personal Day
Seoul, South Korea
2023
Maki Fine Arts
Laundry Day: It All Comes Out in the Trash
Tokyo, Japan
2021
Klaus von Nichtssagend
Works on View
New York, NY
2021